---
What does The Fund for D'Youville support? A strong, innovative, evolving D'Youville!
Learn more about the many campus initiatives The Fund for D'Youville supports, including financial aid and scholarships, student-centered learning and support spaces, and groundbreaking facility and technology upgrades.
Aid for struggling students
For more than 50 years, The Fund for D'Youville has provided critical support for financial aid and student scholarships. Last year alone, D'Youville awarded more than $16 million in scholarships, and 92 percent of our full-time undergraduates receive some type of need-based financial aid.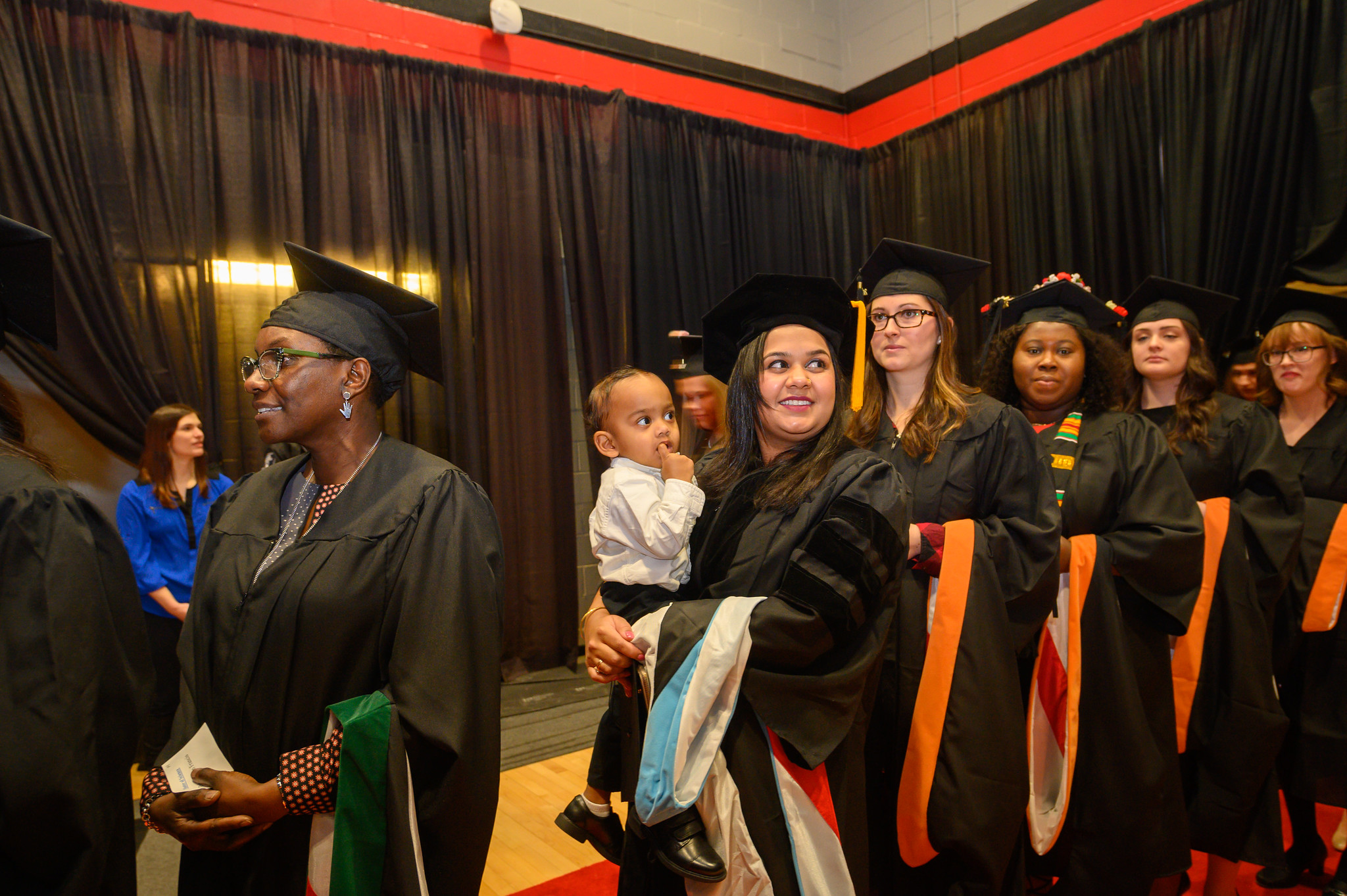 This aid, in addition to our HEOP, Upward Bound, and Say Yes Scholarship programs, which are also supported by The Fund for D'Youville, have helped D'Youville become one of the top-rated universities in the country for social mobility. Your gift to the Fund therefore ensures we can continue to offer the support necessary for low-income and first-generation college students to achieve school and career success.
Success Center
The Success Center houses academic and career advisers who provide everything from scheduling help and transfer guidance to resume and career assistance, all in one modern, attractive space.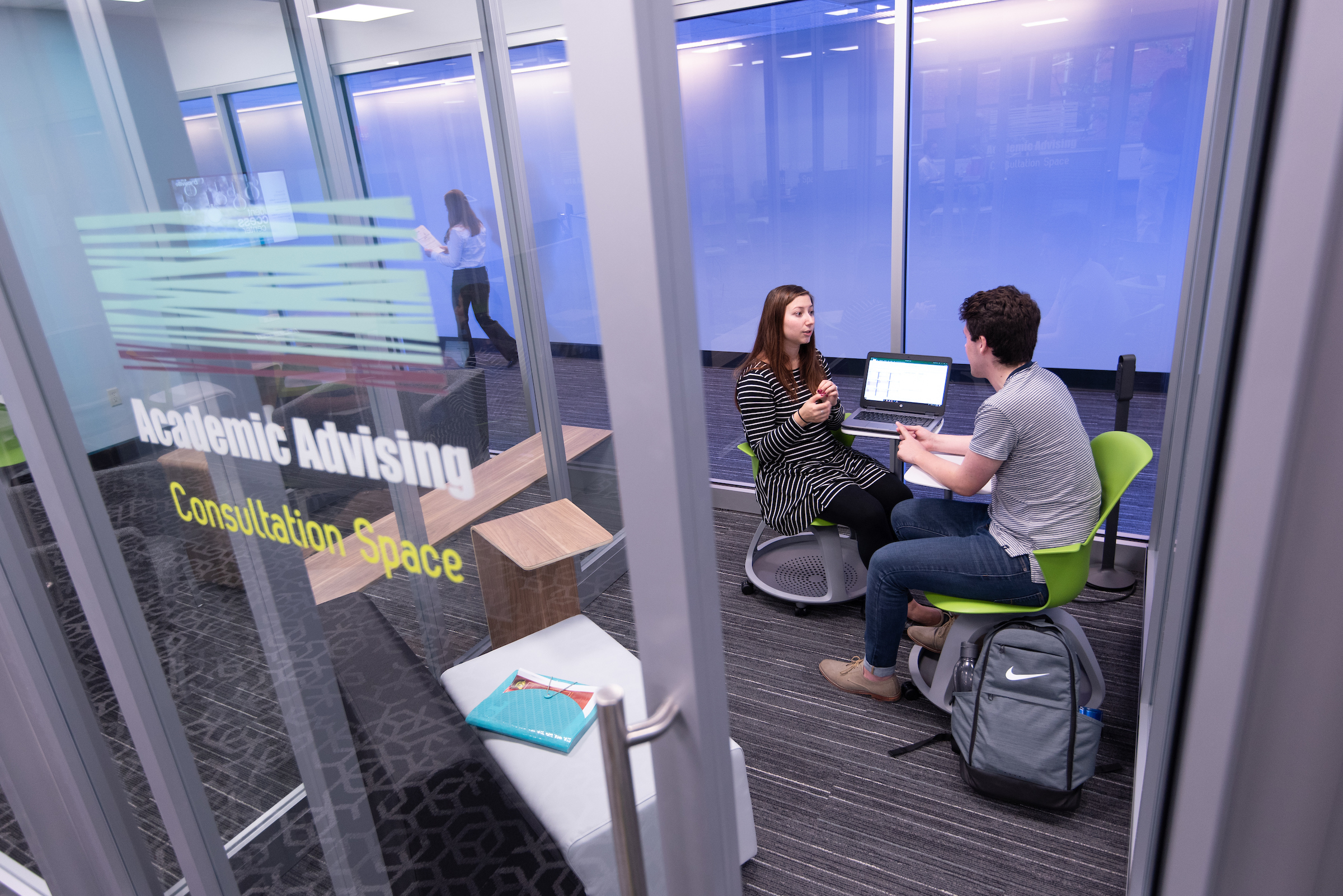 The offices of Academic Advising and Planning, Transfer Services, and Career and Professional Engagement work together to ensure all students discover and stay on the best track for academic and career success. With the help of student ambassadors, the Success advisors help D'Youville students who may be struggling either with specific academics or with their overall career plan.
The welcoming environment means students are more inclined to visit and address potential issues before they become major problems. Whether a student is planning for your new career or making sure their roadmap to success at D'Youville is on track, the collaborative team at the Success Center can lead the way.
Solutions Center
The Solutions Center integrates the offices of the registrar, student accounts and financial aid, so students can say good-bye to "The D'Youville Shuffle," where they had to go from office to office before their problems were solved.

The centralized space is bright, open, and accessible, and the staff assures no one leaves until their problem is solved. Students can access the latest innovative and streamlined support systems to provide best-in-class service.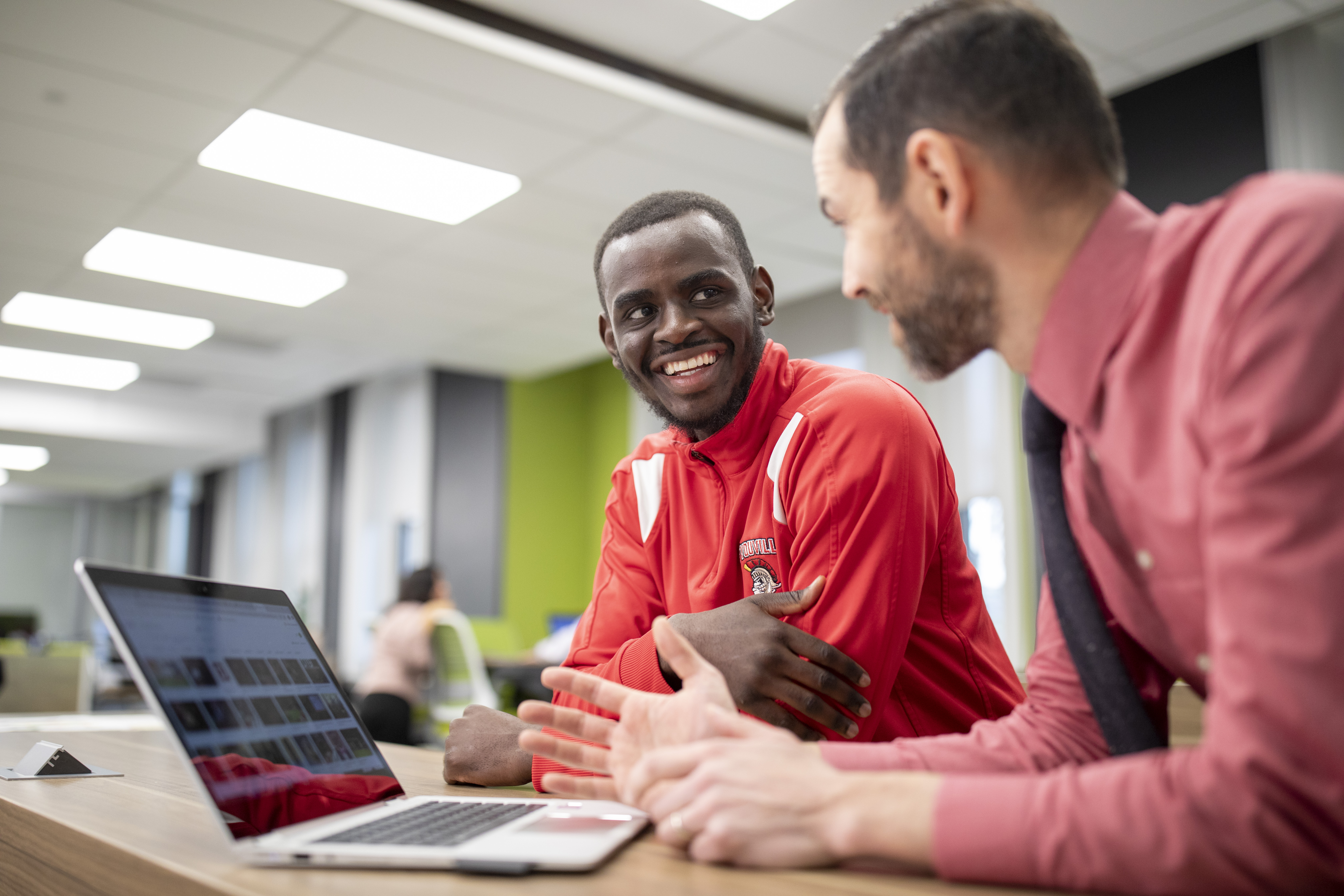 The Park (Advocacy Center)
D'Youville recognizes that today's students face many challenges which were less prevalent in previous generations. Many of our current students come from economically disadvantaged backgrounds, are first-generation Americans, or have families to support.

To address the nuanced needs of student today, D'Youville launched The Park, an advocacy center that provides stigma-free support addressing food insecurity, clothing, housing, health, and social needs. A warm, inclusive space where everyone is welcome, The Park provides personal support and connects students to on-campus and community resources for out-of-classroom needs, including
Personal finance education
Counseling and mental health services
Professional clothing for interviews and internships
Childcare resources
Public transportation information
Housing and home buying assistance
Emergency support
Esports
Esports may be the most exciting and fastest-growing industry in the world today. Competitive video gaming has moved far beyond early arcade games and Atari consoles. The League of Legends World Championship had more than 100 million unique viewers, while the Super Bowl reported 98 million viewers. Varsity esports began a few years ago as an exciting trend and has transformed into an exciting global phenomenon. Collegiate esports has seen growth that rivals sports gaming.

D'Youville is working to join the more than 200 universities as a member of the National Association of Collegiate Esports (NACE), which governs varsity collegiate esports.

The proliferation of esports arenas across the country illustrates the amount of resources colleges and universities have committed to esports. D'Youville has a significant gaming community that competes In the East Coast Conference (ECC) and our student organizations.

Our vision for the future must recognize, incorporate, and embrace a new, modern athlete. To help develop this vision, D'Youville has built a new arena that will help us to plan, develop, implement, and sustain a viable and successful esports program. This year we have sent teams to compete in ECC league play in both Rocket League and Super Smash Brothers. This fall, our student-athletes will also compete in League of Legends, Overwatch, and, Valorant.
Division II Athletics
D'Youville has a long history of athletic competition, from the women of the 1920s holding junior-senior basketball tournaments to our All-Conference Division III athletes of yesterday to our acceptance into the NCAA Division II today. So, we are very excited for our transition to Division II, which will increase our visibility and allow greater opportunities for our student athletes.

In line with D'Youville's rigorous curriculum, Division II athletes are required to meet specific academic standards, which will keep them on track to earning our in-demand degrees. In addition to the benefits to our student athletes, Division II standing also will help recruitment of new students, boost school pride, and increase engagement with the local community and beyond.


Upgraded facilities and technology
Throughout campus, you will see numerous spaces which have been reconceived and revitalized to meet the needs of today's students. Our new IT Pulse Center has centralized information services in the heart of campus and offers a comfortable lounge and help area for students and staff who need assistance. Classrooms have been updated with colorful, comfortable, and rearrangeable seating options, including restaurant-style hi-top tables and booth-type seating. Construction is complete on many new study spaces and lounges where our students can find room to work alone or in groups. Lab spaces and equipment has also been upgraded to give our students modern clinical settings in which to work and study. These and other upgrades help D'Youville move toward our goal as the "University of the Future" while also respecting our rich heritage and providing the best possible atmosphere for our students.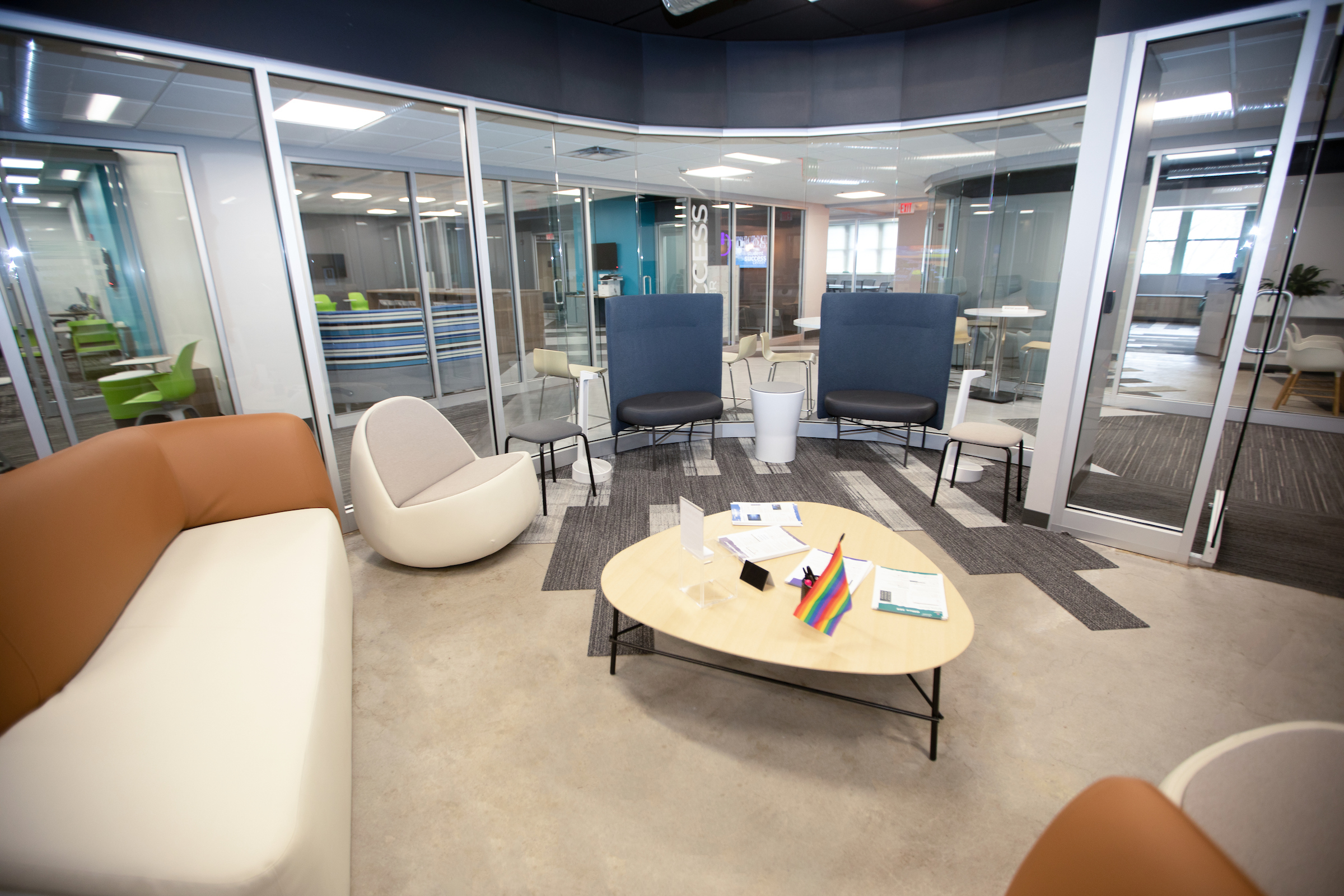 COMING SOON
The Hub
The D'Youville Health Professions HUB – an education, training, and community health center embedded in Buffalo's West Side. The Hub is a 58,751 square foot, state of the art facility that will transform the future of healthcare education and innovation while serving residents of the West Side. The Hub will bring students, medical professionals, and community members together in an interprofessional model which will not only cross-trains health field students from different disciplines and programs, it helps to save lives. The Sisters Health Center at D'Youville – a primary care clinic operated by Catholic Health on the first floor- offers an entryway to additional services throughout the building.

The Hub will include:
A community clinic and pharmacy
A demonstration kitchen and café
A health and wellness center featuring PT, OT, and Chiropractic Services
An inter-professional education and simulation center
High-tech classrooms, meeting rooms and open work spaces
A state-of-the-art event center and community engagement space
Rendering provided by Cannon Design
History Corridor
This summer, a new interactive exhibit will be constructed on the first floor of Koessler Administration Building to showcase D'Youville's mission, history, and heritage. Prospective students, alumni and guests will have the opportunity to discover the life of our namesake, learn about our founding, meet our famous alumni, and immerse themselves in more than 100 years of mission in action. 

Through photos, interactive touchscreen displays, and timeless historical artifacts, we will create a memorable experience for old friends and a lasting impression for new ones as we tell the story of the Grey Nuns who founded and shepherded D'Youville, along with the leaders and alumni who sustained it. In addition, the Boethea Room will serve as a mission museum, housing artifacts and memorabilia which illuminate the journeys of D'Youville students and faculty throughout the 20th century as they lived out our heritage of education and service.